Wine and Dine at the Coopers Arms
Normal Opening Hours
- Sunday to Thursday, 12pm - 11pm
- Friday/Saturday, 12pm - 12 midnight
Christmas Opening Hours
Christmas Eve Sun 24th Dec, 12pm – 11pm
Christmas Day Mon 25th Dec, 11.30am – 3pm (Last Orders 2.30pm)
Boxing Day Tues 26th Dec, 12pm – 6pm
Weds 27th Dec, 12pm – 11pm
Thurs 28th Dec, 12pm – 11pm
Fri 29th Dec, 12pm – Midnight
Sat 30th Dec, 12pm – Midnight
New Years Eve Sun 31st Dec, 12pm – 6pm (Private Function)
New Years Day Mon 1st Jan, 12pm – 6pm
See our Opening Times for the Festive Season (pdf)
Please note that the opening times for our food service are: Thurs, Fri and Sat 12-2.30pm, Sunday Lunches are served 12-4pm and that our kitchen will be closed 23rd December until 6th January inclusive.
Under certain circumstances these hours may change so please ring us and check before you visit. Children/Pushchairs are not allowed in the Bars, but under supervision are welcome in the garden.
About the Coopers Arms
Be sure of a warm welcome at the Coopers Arms and enjoy a meal by the fire, or weather permitting eat alfresco in our pretty garden. Sample one of the many carefully nurtured cask ales, you may find the famous Black Sheep or London Pride alongside Kentish beers.
At the Coopers Arms we aim to provide fare that is different to any other restaurant in Rochester . All of our food is homemade with produce sourced locally within a 30-mile radius of our venue.
We pride ourselves on good home cooking paired with seasonable vegetables and potatoes to suit the dish, so you can always guarantee that our menus will be varied and the food of good quality.
A Little Pub History
The Inn known as the Coopers Arms was built during the reign of Richard 1 (1189-1199).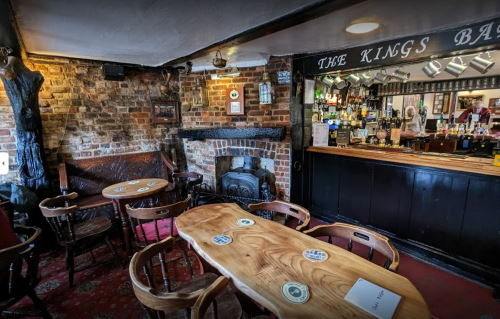 The first recorded inhabitants of the house were the monks from nearby St Andrews priory who were renowned for brewing ales and wine. After falling into disrepair during the dissolution of the monasteries.
The Coopers Arms finally opened its doors as an Inn in 1543 and has been serving fine cask beers ever since.
Over the years the inn has undergone many such changes but still retains its original charm and character.
There is also the legend of a ghost, a member of the Brethren of Coopers, who was walled up and left to die for committing some unforgivable sin against the ancient order and who appears once a year in November, in the dark of night.
But ghosts permitting the inn still gives out that same glow of warmth and hospitality that is has done for centuries, so stay a while and reflect on bygone days.
Make a Day of it
Rochester is an ancient town with many associations with Charles Dickens. Not many towns in England can boast a castle and a cathedral side by side.