We are pleased to announce that we are re-opening our kitchen as from Sunday 8th November
Due to COVID 19 guidance and staff welfare we will only be offering a limited menu. It will however, still have some of our most popular dishes on it and will still be made from locally sourced meats and vegetables.
We will also be launching a Take away service during these lunch times so why not treat yourself to a break from working at the kitchen table and nip out and pick yourself up a lovely lunch.
It is advisable to book in these uncertain times for dining and drinking as we do get very booked up especially on Fridays, Saturdays and Sundays.
TO BOOK A TABLE PLEASE CALL 01634 404298
Opening Times - Update
Hello all - the wait is almost over and we are looking forwards to seeing all of our fantastic customers again. However, there is a "but". The health and safety of our customers and staff is of paramount importance to us. It is imperative that when we re-open we get everything spot on, not only following the guidelines but where possible going above and beyond. This will take some more time to implement. The proposed government date of 4th July seems too soon to us, particularly seeing that a chunk of the population seem intent on ensuring a second wave. For the good of everyone we want to monitor the on-going health situation for a few more weeks and our intention is to open at Noon on Monday 3rd August.
Initially we will only be opening the bar and garden - the kitchen will remain closed until we feel that we can safely reintroduce the food side without any risk to our staff. A system will be in place whereby everybody entering the premises will need to sign a register giving their name and one form of contact as well as providing ID if not known to staff. Once in the pub there is to be no close contact with other persons outside of your bubble. We will be monitoring this but we need your help with this too. Regular cleaning and sanitising of all areas will take place throughout the day. We would ask everybody to stay aware of the COVID guidelines and to work with us to ensure everybody's safety.
Tables inside the pub will be table service only and for those in the garden we will operate a queuing system at the bar. Due to the social distancing aspect we would ask everybody to please be considerate of each other and to please abide by a few house rules to make it a safe and enjoyable experience for everybody. Common sense should prevail but the house rules will be on display and we simply cannot or will not tolerate any breach.
We will be limited on the number of people that we can allow on the premises at any one time and would suggest that you use our table booking service to avoid any disappointment. The number to call is 01634 404298. We must point out however that if you book a table in the garden and the weather is bad we cannot guarantee a table inside, although every effort will be made to accommodate you. Any reservation will only be held for 30 minutes before your table will be reallocated so please try not to be late. Table occupation will be limited to three hours - please be ready to leave your tables at the allocated time.
We would also request that you do not meet in large numbers. For the interim period the car park will be used as an extension to the garden and therefore the car park will be out of use with the exception of management vehicles.
Unfortunately, we will not be able to offer the wide range of ales and lagers that you are used to, but we can assure you those that we will have on offer will be of the highest quality.
As the COVID guidelines limit certain activities we are very sorry to say that there will be no live music until further notice.
Quiz night will be returning soon so watch this space for further updates.
We hope that you have all stayed safe and well and we cannot wait to welcome you all back.
If you have any questions or concerns please do not hesitate to contact us on the number above. We will see you soon.
Simon, Steve, Lisa, Nathan and Dan
About the Coopers Arms
Be sure of a warm welcome at the Coopers Arms and enjoy a meal by the fire, or weather permitting eat alfresco in our pretty garden. Sample one of the many carefully nurtured cask ales, you may find the famous Black Sheep or London Pride alongside Kentish beers.
A Little Pub History
The Inn known as the Coopers Arms was built during the reign of Richard 1 (1189-1199). The first recorded inhabitants of the house were the monks from nearby St Andrews priory who were renowned for brewing ales and wine. After falling into disrepair during the dissolution of the monasteries.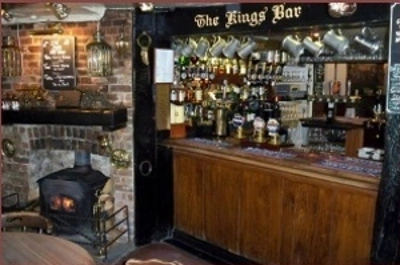 The Coopers Arms finally opened its doors as an Inn in 1543 and has been serving fine cask beers ever since.
Over the years the inn has undergone many such changes but still retains its original charm and character.
There is also the legend of a ghost, a member of the Brethren of Coopers, who was walled up and left to die for committing some unforgivable sin against the ancient order and who appears once a year in November, in the dark of night.

But ghosts permitting the inn still gives out that same glow of warmth and hospitality that is has done for centuries, so stay a while and reflect on bygone days.
Make a Day of it
Rochester is an ancient town with many associations with Charles Dickens. Not many towns in England can boast a castle and a cathedral side by side.