About the Coopers Arms
Be sure of a warm welcome at the Coopers Arms and enjoy a meal by the fire, or weather permitting eat alfresco in our pretty garden. Sample one of the many carefully nurtured cask ales, you may find the famous Black Sheep or London Pride alongside Kentish beers.
To make a reservation please call: ☎ 01634 404298.
A Little Pub History
The Inn known as the Coopers Arms was built during the reign of Richard 1 (1189-1199). The first recorded inhabitants of the house were the monks from nearby St Andrews priory who were renowned for brewing ales and wine. After falling into disrepair during the dissolution of the monasteries.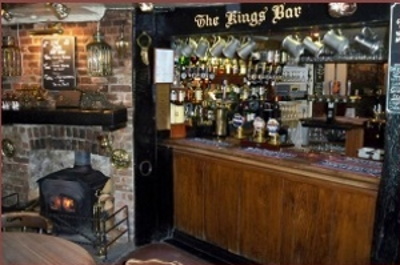 The Coopers Arms finally opened its doors as an Inn in 1543 and has been serving fine cask beers ever since.
Over the years the inn has undergone many such changes but still retains its original charm and character.
There is also the legend of a ghost, a member of the Brethren of Coopers, who was walled up and left to die for committing some unforgivable sin against the ancient order and who appears once a year in November, in the dark of night.
But ghosts permitting the inn still gives out that same glow of warmth and hospitality that is has done for centuries, so stay a while and reflect on bygone days.
Make a Day of it
Rochester is an ancient town with many associations with Charles Dickens. Not many towns in England can boast a castle and a cathedral side by side.